Atlanta miraDry Treatment

Do you suffer from excessive underarm sweating? If you want a permanent solution in Atlanta, choose our advanced miraDry treatment at Olansky Dermatology & Aesthetics. The miraDry treatment is non-invasive, FDA-approved, and can actually eliminate sweat glands in your underarms. Your procedure with our miraDry system will only take about an hour. Two treatments are recommended for best results. Our team of professionals at Olansky Dermatology & Aesthetics is proud to offer such an effective cosmetic dermatology treatment option to patients suffering from axillary hyperhidrosis, or excessive underarm sweating. Contact us today to see if you are a candidate for our miraDry procedure.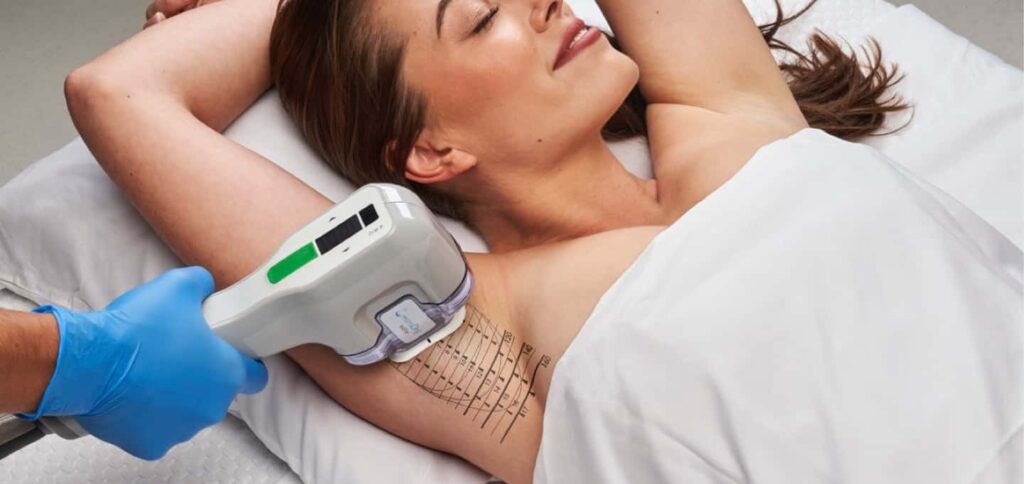 Eliminate Underarm Sweating
Is there a way to permanently eliminate your underarm sweating? At Olansky Dermatology & Aesthetics in Atlanta, GA, we understand the traumatic affect excessive underarm sweating can have on your emotional well-being and quality of life. Many sufferers find themselves self-conscious at school, work, or social settings. Underarm hyperhidrosis can even influence their clothing choices. Our dedicated dermatologists can offer a way to eliminate your underarm sweating with our miraDry treatment. Let us help you regain your confidence and full quality of life through our advanced hyperhidrosis treatment that can eliminate your underarm sweat glands through a non-invasive method.
I have always been an excessive sweater, but once menopause started it was exacerbated. I heard about Botox but I would have to pay several thousand a year. So that would not work for me. When I heard about miraDry I decided to give it a try, it is a onetime cosmetic procedure to stop sweating. The cost is almost the same as a year supply of Botox. The procedure took an hour and with minimal pain. The result was amazing I highly recommend this procedure to anyone suffering from excessive sweating.
The miraDry was awesome! I am not exactly someone who sweats through everything, but I do have problems when I wear silk and sheer materials. The miraDry procedure was really easy with no true downtime for me. I would definitely recommend it, especially for those who want to pull out that silk dress!
Effective Treatment for Excessive Underarm Sweating
miraDry from Olansky Dermatology & Aesthetics is your most effective treatment solution for excessive underarm sweating. This allixary hyperhidrosis treatment is distinguished by its permanent and successful results, providing an 86% reduction in underarm sweating. Other treatments include aluminum chloride products, which can be effective for a few days but are often time-consuming and cause painful skin irritation. Olansky Dermatology & Aesthetics is proud to provide our patients with an effective treatment for excessive underarm sweating that will last forever.
Contact Atlanta miraDry Treatment Professionals today for more information on how we can benefit you!