Alexander S. Gross, M.D., F.A.A.D.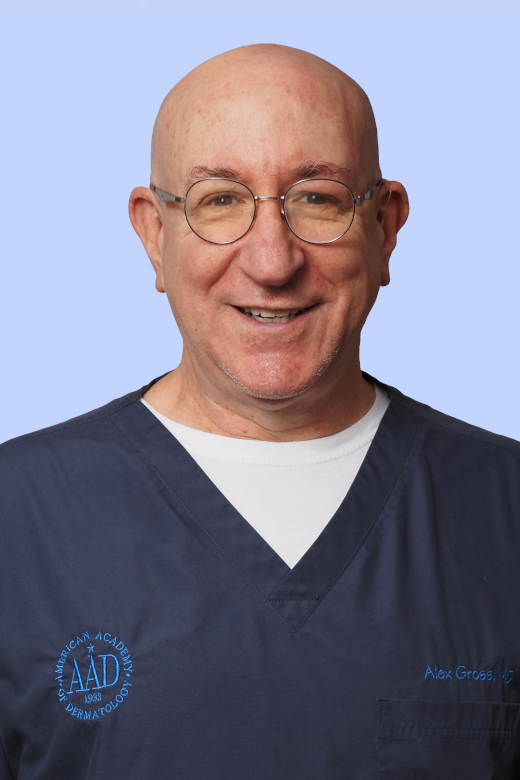 BS: Emory University
MD: University of South Florida
Internship: Emory University
Residency: Emory University, Vanderbilt University
Fellowship: Vanderbilt University
Board-certified in Internal Medicine and Dermatology
Additional awards and accolades include:
Board of Directors, American Academy of Dermatology (AAD) (elected 2023)
Board of Directors, Georgia Society of Dermatology and Dermatologic Surgery
Member of the Georgia Composite Medical Board (past Chairman)
Fellow, National Federation of State Medical Boards (FSMB)
Fellow, American Academy of Cosmetic Surgery
Assistant Clinical Professor of Dermatology, Emory University
Board of Advisors for the Gateway Center (volunteer)
Medical volunteer at Mercy Care Clinic (a co-founder)
Volunteer, American Cancer Society
Presidential Award (for outstanding care and advocacy on behalf of patients), American Society of Dermatologic Surgery (ASDS)
Presidential Citation, American Academy of Dermatology
Dr. Alexander Gross received a Bachelor's of Science degree in biology from Emory University and then attended medical school at the University of South Florida's College of Medicine. Upon receiving his medical degree he completed an internship and residency in internal medicine at Emory University. He then completed a dermatology residency and fellowship at Vanderbilt University. Dr. Gross is board-certified in both the fields of internal medicine and dermatology.
After completing his residency at Vanderbilt, Dr. Alexander Gross made Georgia his home. He is married and has two adult sons. His interests outside of dermatology include his love of all types of music, watching professional sports, road biking, and occasionally playing the piano.